Nærum High School (NAG)
Read about the Danish High School (STX) in the educational system HERE (PDF-file)
See pictures of the school HERE, video HERE and PDF-brochure HERE
A Danish Upper Secondary School for the Twenty-First Century
Introduction
Flow is central to our philosophy and long-term vision. Flow of learning and flow of reinvention. Flow taking our students from being pupils to becoming life-long learners; learners who possess the skills relevant to the opportunities and challenges they will face as scholars, leaders, entrepreneurs, and citizens of the globalized twenty-first century.
This flow is something that is reflected in the barrier-breaking architecture of Nærum Gymnasium (NAG). Opening its doors in August 2003, NAG - situated only 10 kilometers north of the capital Copenhagen - is the physical manifestation of a new integrated and holistic approach to space and personal and academic growth.
Opening Up Social and Academic Structures
Up close the architectural vision challenges many of the ground rules for what a gymnasium should or shouldn't be. Gone is the geometrical rigidity that traditionally characterizes places of learning: the permanent walls, the inflexible framework of long hallways with classrooms in rows.
Instead, the sweeping glass facades possess an openness that is central to our vision of education. The various layouts for our auditorium, study centers, spaces and centers for team work and class seminars are flexible in that walls can be retracted or expanded according to need. Thus, in a real and very practical sense, the physical environment is a portal to our academic ambitions.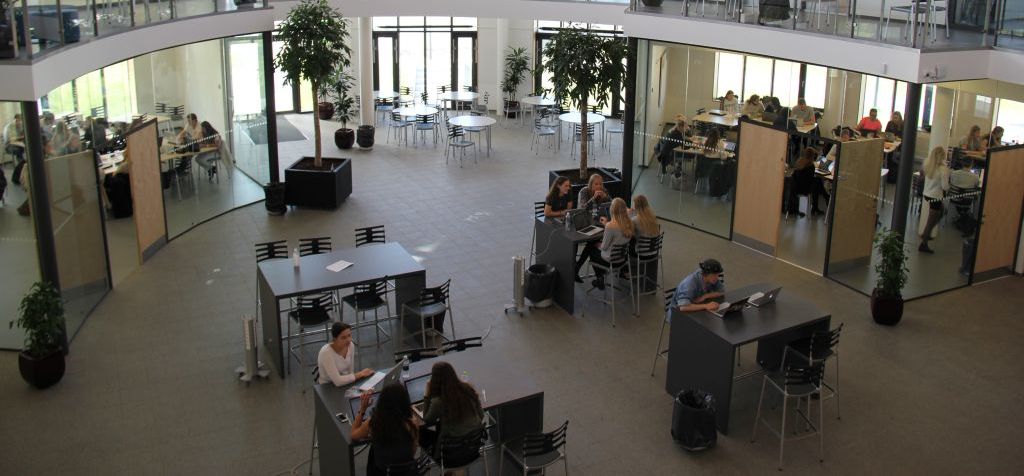 Academic Process
The ambition we - faculty, students and management - share is for everyone to acquire and seamlessly become part of an academic culture that emphasizes responsible independence. We are less concerned with the structure of traditional instruction - with its clear delineations of time in and out of the classroom - and more with students learning by spending time in an academically, technologically, and socially relevant environment.
Because our in all 16,000 square meters are equipped, both wired and wirelessly, for IT to an unprecedented scale, we have the ability to communicate information instantly with the entire student and faculty population. This, among other things, means that we can arrange instruction around days and specific learning processes rather than pre-populating a full term's worth of classes. This immediacy, this ability for our students and faculty to adapt 'on the go,' directly supports our emphasis on the process of learning. It prepares individuals for what it means to study and work in a dynamic environment rather than placing artificially formal strictures on particular disciplines.
Students attend lectures; they gather for seminars; and as they progress through the three years with us they are increasingly encouraged to solve assignments individually or professionally in teams. With a total student population of 1100 and a faculty-to-student ratio of nearly 1:8, our educational model allows for almost any measure of flexibility. Students are free to take part in social or cultural events with their peers and faculty in the Agora, the central gathering point at NAG, modeled upon the ancient Greek town meeting place; but they equally have access to a peaceful and stimulating environment away from the crowds.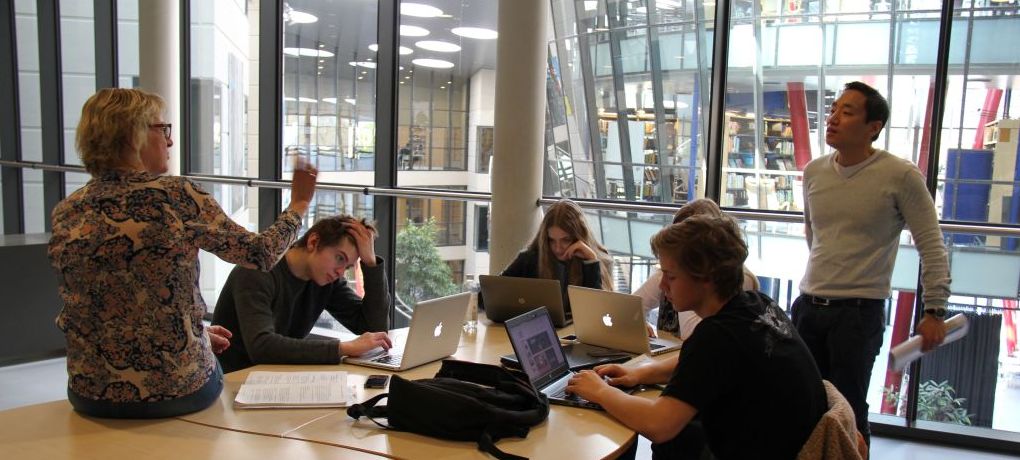 A Flexible Framework
It is an environment that is designed, to the greatest degree possible, to fit the varying angles to what is being taught and our organizational vision. Our physical framework gives us - both as students and instructors - greater flexibility in structuring learning and thereby also induces everyone to take charge of his or her own learning. And it gives teachers great flexibility in pursuing whatever work methods and procedures best suit the topic at hand, and to arrange the learning around suitable educational processes rather than any given result.
A Vision of Education
In this sense, our gymnasium is a learning organization. We, the students and teachers, are continually working toward becoming better "˜learners"™: a great team, larger than ourselves, connected, generative. The learners, all of us, in this sense is the team that is the organization. The greater and more fluid the interactions among our constituent parts the faster those parts grow into the building blocks for continual learning.
Extending Our Organizational Vision
We hope you will take a moment to browse through our website and share with us the energy, the vision and the flow that pulses through this place. After having consolidated ourselves as a local organization, we are now ready to reach out for international educational partners, both within Europe and on a global scale. If you believe we share a common vision for learning and educational organization or if you simply wish to learn more about us, please do not hesitate to get in touch with us.